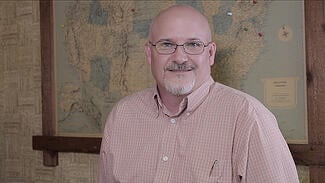 We sat down with CEO, David Barnard, to talk about the business of shredding and what makes Industrial Shredders so unique.
How long has Industrial Shredders been doing business?
"Industrial Shredders has been around since 1854. They originally made farm type equipment. One type of machine they created was used to grind up grain. This then evolved into a shredder and that's how it all got started and evolved from there."
What is your background?
"I used to work for a company called Vitamix Corporation making blenders. As you know, blenders take something and grind it into something else. Similar to what I am involved with now, but with a much larger capacity machine."
So let us talk about who the customers are. Who are they?
"We have a pretty diverse group of customers. People will call us with all different types of materials to be shred. For example one of the most recent calls I got was a company that manufactures high school wrestling mats. When they make their mats, they trim them to size and then have left over foam that they are trying to get rid of it."
So, what happened? You took their call and then what? What are you going to do about it?
"The first question we always ask is 'what are you trying to accomplish?' In this particular case, they needed to reduce the amount of left over foam to load on a truck for disposal as they were being charged per truckload. Through discussion we came up with a project scope and product(s) to include all the necessary parts to accomplish their goals."
Can you give us another example of a client you created a custom solution for?
"One of our biggest customers is a Fortune 500 Company whose name I can't disclose, but they have a lot of machines for their toilet paper assembly line. Toilet paper is made on a 40 foot roll and the rejects drop onto a conveyor belt and then go through a custom shredder. This particular shredder was built exclusively for this purpose and shreds up the 40 feet roll which is then air-vaced into another place on their line where they are reusing the material."
So is that what makes you unique? The custom solutions?
"I like the idea that we are not just making machines, but solving problems. There are so many other companies out there that answer the phone and say, 'Alright, what do you want, A, B or C.' I like the fact that we can ask, 'What are you trying to accomplish?,' and [then] we will come up with a solution for the customer.'"
Alright, David. Well thank you for your time.
To learn more about Industrial Shredders, check out this video!