Manufacturing Performance At Its Peak
Industrial Shredders engineers, designs, and assembles state-of-the art systems to improve performance for the industrial and manufacturing spaces. Beyond Precision Shredders
Industrial Shredders has been serving in the manufacturing space for more than 160 years. Although we're known for our precision shredders, our value goes way beyond the machines: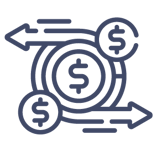 Reduce the Cost of Goods Sold
Manufacturers across the spectrum face ever-increasing prices on raw materials, utilities, and labor. Combining automation with consistency, Industrial Shredders can help you lower the COGS.

Turn Waste into Profits
Every process has waste. How do you make the most of it? Industrial Shredders has spent decades helping manufacturers identify moments of waste and help return it to the manufacturing process, faster.

Optimize Efficiency
Whether it's electricity, gas, or human power, sloppy use of your resources is bad for business. Industrial Shredders can help reduce your costs and your footprint by optimizing processes.
PRODUCT & SERVICE OFFERINGS
Through equipment manufacturing, sourcing, process engineering, and system design, the team at Industrial Shredders meets you where you're at and helps you cross the finish line.
SHREDDING SPECIALTIES
We work hand in hand with organizations of all kinds to help shrink and move materials.
EXPERIENCE YOU NEED
MANUFACTURING PARTNERS
Need some help? Industrial Shredders are the experts and professionals who can get the job done right the first time. We're focused on securing your reputation as an exceptional partner and will add value with your customers.
LEARN MORE ABOUT INDUSTRIAL SHREDDERS
The Industrial Shredders team is about trust and expertise. Learn more about our team, our specialties, and philosophy by learning more about us.